restrictions from 1 October
Amendment to EU regulation on recreational bass fishing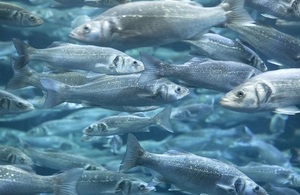 The European Union has announced an amendment to Council Regulation (EU) 2018/120 as regards fishing opportunities for European seabass.
From 1 October to 31 December 2018 in recreational fisheries in ICES divisions 4b, 4c, 6a, 7a to 7k, one specimen of European seabass may be retained per fisherman per day. This applies if you are fishing from a boat or from the shore. 46cm plus
This follows advice from the International Council for the Exploration of the Sea (ICES) on European seabass stocks and an estimated higher survival rate of the species from catch-and-release practices.
More information is available on GOV.UK.